license «Editorial Use Only»
The Editorial Use Only license means that the image cannot be used for commercial advertising purposes.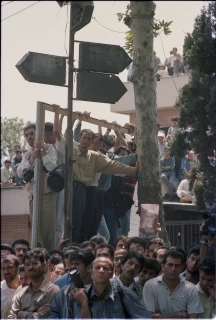 Iran student protests, July 1999
, IRAN , TEHRAN
Students are protesting during a demonstration in Tehran, Iran. Iranian Student Protests of July 1999 refers to a series of unrest and clashes between Friday the 9th and Wednesday the 14th of July 1999. The gathering and protest of the students against the closure of the Salam newspaper on July 6, 1999, led to a series of clashes between protesting students and law enforcement.
Photo: Peyman Hooshmandzadeh / AKSONLINE